Nutrition : Top 10 Worst Diets Ever If You're Trying to Lose Weight, According to Nutritionists
Let's be real, you've probably been tempted to try a rando diet before. And it's not your fault! When you're looking to lose weight fast, it can be hard to get past the phenomenal before-and-after photos and see that a pill or celebrity trend isn't the best idea.
But that's where registered dietitians come in. The nutritional experts are here to clear up the confusion over crazy diets and put you on a path to sustainable weight loss that won't leave you hungry or full of tapeworms. (Yep, tapeworms.)
With that in mind, we asked 10 nutritionists to spill on the strangest diets they've come across and how to safely drop the pounds instead.
The Baby Food Diet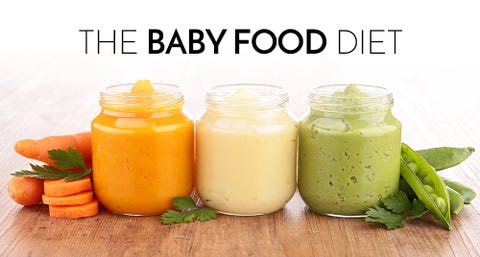 Why It's Nuts: "Baby food is basically pureed fruits, vegetables, and meats," says Sharon Palmer, author of Plant-Powered for Life. "So there's no real reason why eating baby food would help you lose weight."
On top of that, a baby food diet is unsustainable, says Palmer. When food is liquefied, the body doesn't pick up fullness cues, which can make you feel hungrier after eating a sufficient amount of calories, she says.
Better Move: Eat in a way that you could sustain for the rest of your life without feeling miserable, says Palmer. Practicing common-sense portion control, mindful eating, and eating more minimally processed plant foods such as whole grains, beans, vegetables, and fruits, which are rich in nutrients and low in calories should get you to your goals.